Comprehensive Dentist in Phoenixville, PA
Welcome to Liberty Dental Group
General & Pediatric Dentist, Oral Surgeon, Orthodontist, Endodontist, Periodontist, Prosthodontist
Since 1988 Liberty Dental Group has not only served residents of Phoenixville and the Greater Philadelphia Area, but has also been at the forefront of patient-centered care. And we proudly welcome everyone – ages 2-100!
Liberty Dental's unique approach combines comprehensive family dentistry and complete specialty care, creating a truly multi-specialty practice. At Liberty Dental, all care is focused on the patient, as the team of General and Pediatric Dentists, Oral Surgeons, Orthodontists, Endodontists, Periodontists and Prosthodontists deliver highly coordinated care in the state-of-the-art facility located at 300 Schuylkill Road in Phoenixville.
We are a father-daughter team that strives to genuinely get to know you as we tend to your oral health needs. As our patient, you will be heard, understood, and cared for like family, and a comfortable and encouraging experience for you is our goal. We endeavor to keep our staff and team of doctors, ensuring consistency and growing relationships. We are here for the long haul – you can count on us!
---
Our Reviews On Google
Read Google Reviews Write Google Reviews
---
Are You Ready to Upgrade Your Smile?
Contact us with any questions or to schedule an appointment to reclaim your smile today!
Comprehensive Dental Care
Dental Implants
When it comes to dental implants, which require accurate planning and surgical skill, our highly trained and experienced dentists are prepared to deliver optimal results. We offer nitrous oxide to provide a relaxed and pain-free experience.
Orthodontics
You can avoid the extra phone calls and coordinating that accompany the burden of going to an orthodontist because we offer the convenience of in-house orthodontic care. A true bonus of our multi-specialty practice, you can receive premium orthodontic consultations and treatment from our Liberty Dental specialists that already know and care about you.
Dental Crowns
A custom crown protects and strengthens a broken tooth while restoring it to its original shape and size. At Liberty Dental, your comfort and confidence in our work are our priority. We make every effort to meet your individual needs while creating a pleasant experience for you, assisting you through the several month process of fitting your crown.
Teeth Whitening
Brightening your smile and boosting your confidence is as easy as one-two-bleach! Our team offers quick and easy teeth whitening consultations, tailored to your individual needs and smile. Our custom splints are affordable and available within days of your appointment.
Best Specialized Dental Care In One Location: Phoenixville
By combining all these specialties into a single location, the team is able to ensure that patients receive the most comprehensive dental care delivered in a familiar, comfortable environment. Liberty Dental's highly specialized team is able to focus their skills on patient care, instead of referring patients out of the office and trying to coordinate care remotely. This hands-on approach, combined with honesty, loyalty and pride in their work, has earned Liberty Dental the trust of the patients and a level of satisfaction that can only be felt through their smiles.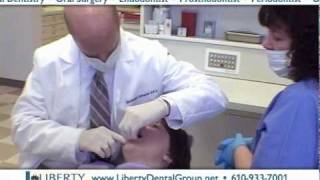 About Our Dental Office in Phoenixville PA
We implement a premium sterilizing system in all our treatments to prevent potential infection. We are HIPAA compliant, so you are safe with us. We want to provide you with the smile you deserve! Liberty Dental is conveniently located at
300 Schuylkill Road in Phoenixville
, next to the Shoppes at Valley Forge. We offer our services six days a week, including evening and weekend hours, 24-hour emergency service, and are accessible for those with disabilities.
Office Hours

We work with all insurance carriers.
Liberty Dental is a proud member of: